TRADITIONAL, GREEK COFFEE!
Loumidis Papagalos Brand, traditional, Greek Coffee!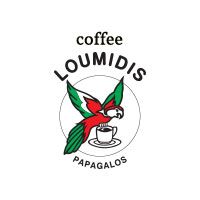 At the beginning of the century, around 1910, the three brothers Anthony, Nick and Jason Loumidis, leaving behind their homeland, Karysto in their quest for a livelihood, edited the scarce and expensive for those years and coffee protodieneiman market. Grocery store where they worked used in the manufacture of coffee, a manual roaster 10 okas and fuel wood or charcoal. The process for preparing the coffee was very difficult, and the production of the desired quality was real feat: the roasted coffee should be uniform, have stable color and not to lose any of the firing valuable ingredients. Within that "primitive" grocery store became brothers Loumidis valuable experience, which was the most important asset in later course in the world of coffee.
Vision of Loumidis Papagalos Brand
To excel as an innovative family business which, from generation to generation, based on philosophies and values, treats customers like members of her family. To continue the long relationship we have with our customers since 1920 and continue to be the first choice. Be recognized as experts in coffee quality and provide affordable, fresh and quality products, as well as complete sentences, on a journey into the magical world of coffee.
In our coffee houses, coffee is a family affair! entire branch network Coffee LOUMIDI is based on the concept family. The family Loumidis keeps the tradition and continues to respect the history of Greek coffee house started early last century. From the moment you enter a store Coffee LOUMIDI will carry you the warmth and aroma of freshly brewed coffee.

You will feel the care of "mother" to welcome you with a warm smile, and you will taste the icing sprinkled with lots of marshmallows, sweets, the mellow liqueur, crunchy cookies, aromatic teas and chocolates. would feel personal stamp of "father" Loumidis everywhere. He will travel to the world of freshly brewed coffee, building flavors that offer quality and enjoyment. He will learn to love good coffee after all, who knows better coffee from himself Loumidis?
Values of Loumidis Papagalos Brand – Quality and everyday enjoyment.
We set high quality standards for our products and we are committed to using fresh and high quality raw materials, both in coffee and the rest are chosen delicacies that we offer from our coffee.
Loumidis Papagalos Expertise.
Having accumulated experience and knowledge from generation to generation, 3rd generation Loumidis continues with the same love and passion as her grandparents, vision, and offers you your own personal blend of freshly ground hot coffee in front of you.